ELECTRONIC COMPONENTS
CD Player
All of the CD players made by Burmester enthrall the listener on account of their musical warmth, which goes hand in hand with an incredible wealth of detail. Countless benchmark tests conducted by leading trade magazines have vouched for the fact that our CD players generate a kind of sound that is normally produced only by analog LPs. This is the result of innovative circuitry, selected DA converters and upsampling technology with sampling rates of 96 or 192 kHz.
We set the international standard with the invention of belt-driven CD drives. As in the case of analog record players, the belt-driven CD player has the advantage that it separates the sound carrier from the drive motor. It ensures that the CD rotates in an absolutely constant manner, with no unevenness or disruptive vibrations. The CD is read with far greater precision, since there is no electrical jitter (frequency variations in the transmission of digital signals). The handmade drives of our Reference Line and Top Line CD players employ this type of drive technology.
"When everything is perfect,
you forget about the technology
and the music comes to you."

DIETER BURMESTER
MORE PRODUCTS
This might interest you
There is more than only sound – there is art. Explore the full range of Burmester products and components to truly experience musical fidelity.
Preamplifier
For Reference Line
077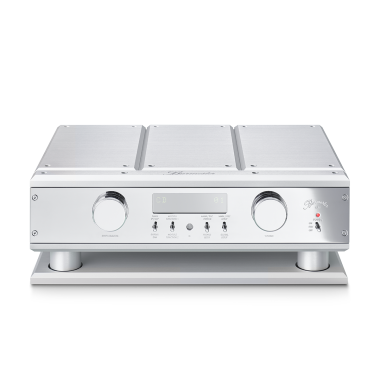 In 2007, for the celebration of the 30th anniversary of the 777 preamplifier, Burmester introduced another preamplifier: the 077. Designed in the elegant tradition of Burmester, the 077 provides exquisite sound and a relaxed listening experience.
Phono preamplifier
For Top Line
100
The Phono Preamplifier 100 combines the best features for the perfect analogue sound. It was designed to provide record lovers the best possible sound quality and the digital preservation of their analogue collections.