ELECTRONIC COMPONENTS
Preamplifier
The Burmester success story started with a preamplifier. In fact, the legendary 777 was the first device developed by Dieter Burmester.
It was followed by many other successful models, many of whom we still produce to this day with all updates in place. This includes preamplifiers such as the 808, which is a worldwide benchmark.
A common factor for all Burmester preamplifiers is their modular design, which aims to provide perpetually exceptional listening experience. The majority of Burmester preamplifiers operate within Class-A and are- like all Burmester devices- based on DC coupling.
"When the listener closes his
eyes, listens to the music and
nothing disturbs him, then we
have done a good job."

DIETER BURMESTER
MORE PRODUCTS
This might interest you
There is more than only sound – there is art. Explore the full range of Burmester products and components to truly experience musical fidelity.
Musiccenter
For Reference Line
111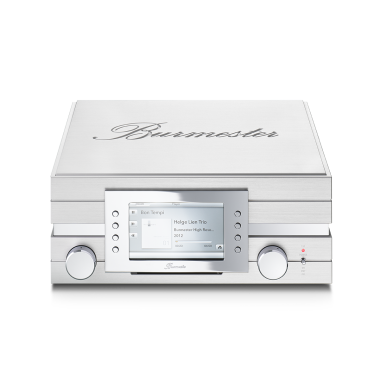 The 111 Musiccenter is an audiophile masterpiece that sets a new standard for digital music reproduction. The technology combines a music server, CD player, CD ripper, a DAC, and an analog preamplifier for a groundbreaking variety of functions.
Power Conditioner
For All Line
948
Burmester has developed the top-quality Power Conditioner for a high-end musical experience. The 948 surpasses high-frequency noise through premium filters and it stands top of the line in the world of high end music systems.