B28
Loudspeaker
For All Line
2022 bringt Burmester als Ergänzung der B-Serie das Lautsprechermodell B28 auf den Markt. Die Optik der B-Serie ist geprägt durch klare Linien, die sich sowohl in der Gehäuseform als auch den Fronten wiederfinden.
B28
Loudspeaker
Like the larger B38, the B28 loudspeaker works on a 3-way principle, but in the case of the B28 all the drivers are arranged on the front of the speaker. To work independently without interaction, each is located within its own housing chamber. Sonically, the B28 speaker also benefits from systematically integrated stiffening elements for structural stabilization and reducing cabinet vibrations. Unwanted resonance is subsequently successfully minimized, increasing the loudspeaker's accuracy. To eliminate microphonic effects, which can have a negative influence on the frequency response, the crossover is also placed in a separate chamber. The two flow-optimized, high rigidity bass reflex tubes employ very smooth surfaces to enable the B28 to reproduce the lowest frequencies with a high level of accuracy. By means of the sophisticated, technically high-quality signal routing and the use of fine core Burmester cables, as well as large cross sections, detrimental transmission losses can be almost eliminated.
LOUDSPEAKER B-SERIES
"The goal we
strive for is for
the customer to
forget the technology
behind the
sound…"
AJAN HANNEMANN
TEAM LEADER ACOUSTIC ENGINEERING
IMPRESSIONS
With attention to detail.
Recognisable as a typical Burmester even from the very first glance, the B28 loudspeaker makes use of characteristic design elements of Burmesters loudspeakers.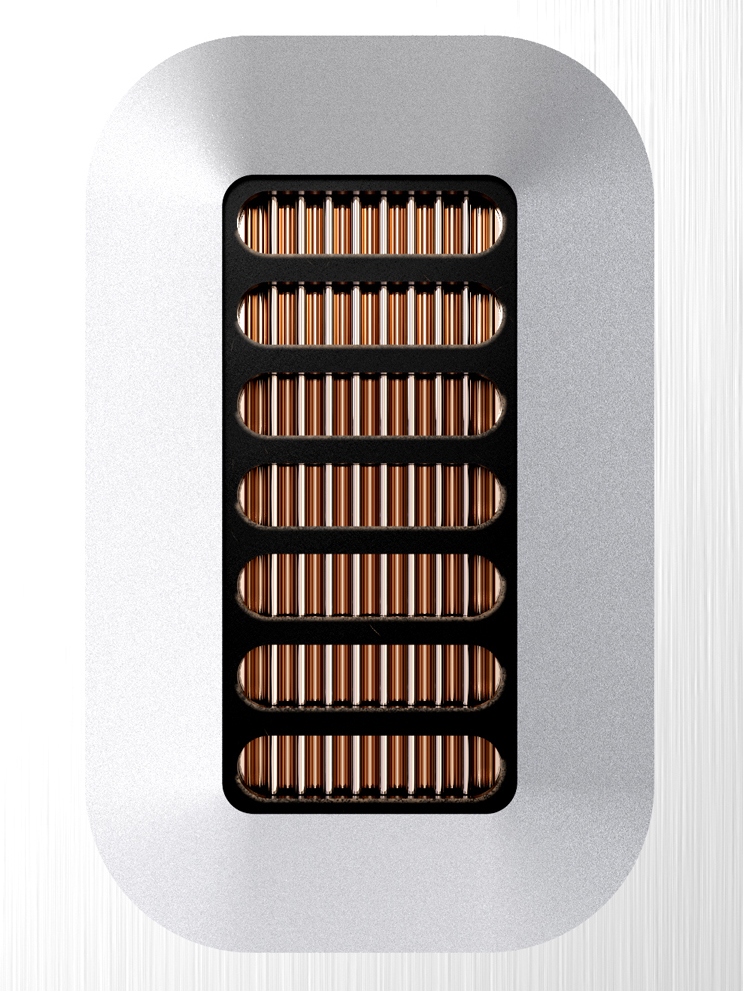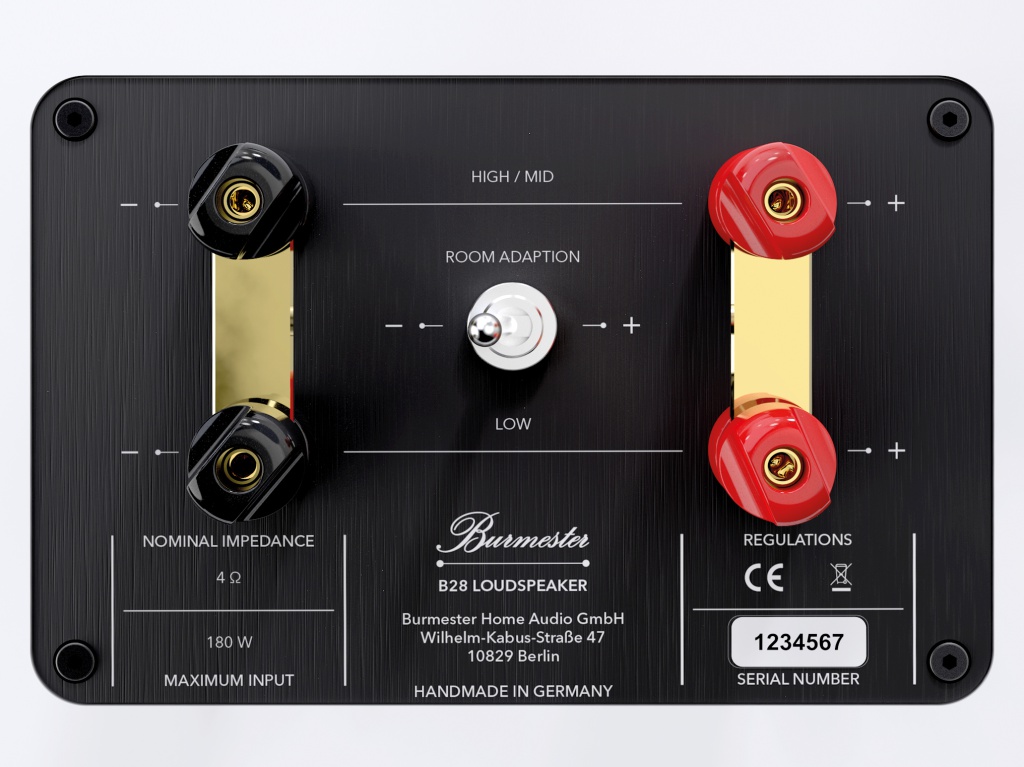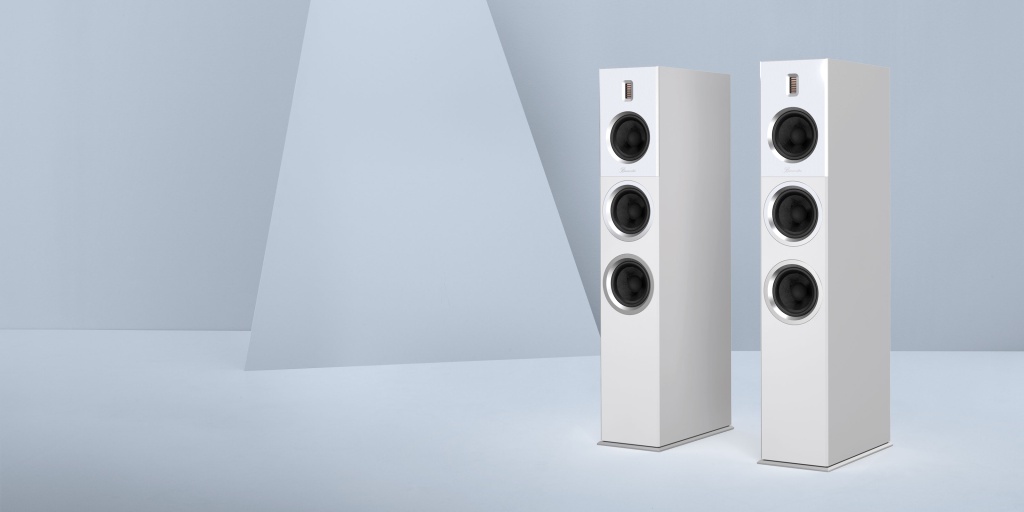 MANUFACTURE
Tweeter
The B28 loudspeaker features an AMT tweeter with a flexible and equally stable foil diaphragm that has optimal internal damping. This results in imaging and a sound stage that impresses with clarity, transparency and speed. Similar to the B38 loudspeaker, the relatively narrow silhouette of the B28 and the particularly narrow width of the AMT units allows for low horizontal directivity with wide dispersion.
Midrange
The B28 employs the drive unit already developed for the B38 – a 17cm midrange design with a powerful drive and large voice coil. Its design allows a low crossover frequency to the woofer, contributing to a realistic reproduction of voices and instruments. Its lightweight, torsionally stiff fiberglass cone transmits even the finest details in a nuanced and undistorted manner.
Low frequency
For the B28, Burmester has developed woofers according to its own specifications, together with a well-established drive unit manufacturer, which are consistently optimized for use in low frequency ranges. Due to the long-stroke and flow-optimized design, the B28 brings to bear a particularly remarkable low-frequency response. In addition, contributing to the bass response is its powerful magnet system in a position to easily reproduce even the widest dynamic differences in a controlled and tonally precise manner.
TECHNICAL DETAILS
| | |
| --- | --- |
| Prinzip | 3 way bass reflex |
| Weight | 37 kg |
| Height | 1144 mm |
| Wide | 223 mm |
| Depth | 433 mm |
| Nominal load capacity DIN EN 60268-5 | 180 W |
| Sensitivity at 2.83V/1m | 87 dB |
| Nominal impedance | 4 Ω |
| Frequency range +/-3 dB | 39 Hz bis 31000 Hz |
| High-frequency converter | Air Motion Transformer |
| Midrange converter | 17 cm with glass fiber diaphragm |
| Low-frequency converter | 2 x 17 cm with glass fiber diaphragm |
| Transfer frequencies | 150 Hz / 2400 Hz |
MEDIENDATENBANK
Downloads
Alle Downloads finden Sie auf unserer Mediendatenbank.