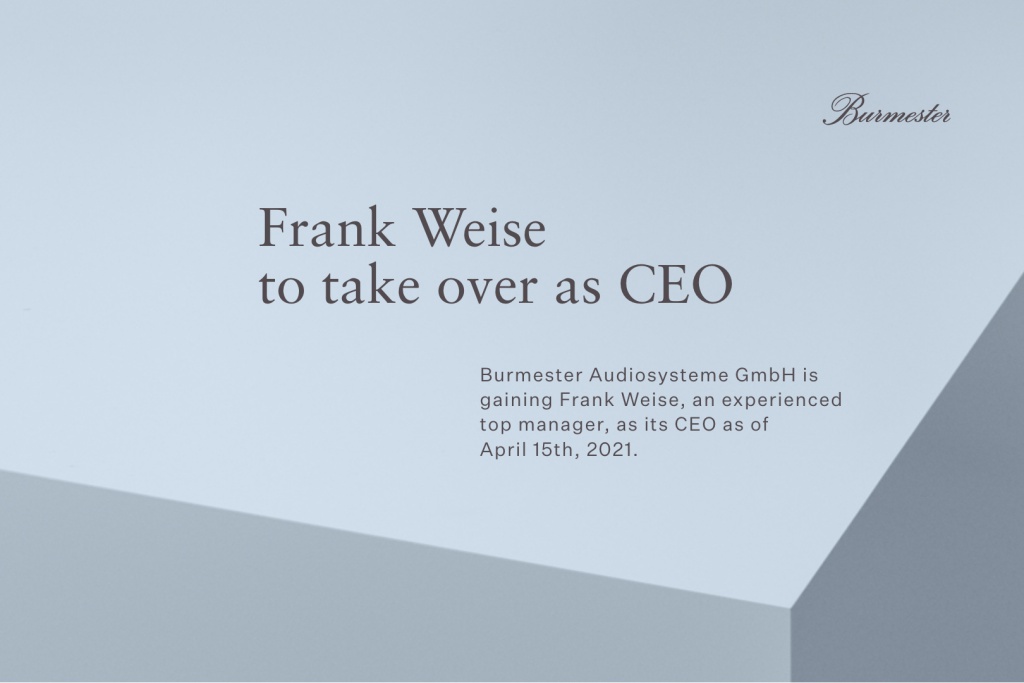 BEHIND THE SCENE
Frank Weise to take over as CEO
of Burmester Audiosysteme
GmbH in mid-April 2021   
BERLIN 03 MARCH 2021
Burmester Audiosysteme GmbH is gaining Frank Weise, an experienced top manager, as its CEO as of April 15th, 2021. Frank Weise, who replaces Managing Director Marianne Burmester, will set the direction for the company to successfully implement strategic focus projects such as the expansion of production capacity, new product development and internationalization.
Frank Weise's professional career includes several international positions with Mitsubishi Electric in Japan, the USA and Germany, among others. He has extensive operational expertise through the establishment and management of several production facilities in various industries. Most recently, he spent 14 years as plant manager and VP for Vestas in Brandenburg, Germany, followed by another five years as Managing Director of WindGuard Certification in Lower Saxony, Germany. He holds a degree in process engineering from the Technical University of Munich.
At the outset, Mr. Weise will be in close contact with Marianne Burmester, who will continue to play a central and advisory role for the company as a shareholder.
"When I took over the management of the company in the summer of last year, my goal was for us to grow together more as a company and to focus on the development and market launch of new products. With Mr. Weise we are joined by a renowned top manager who can look back on more than 25 years of management and production experience in both industry and medium-sized companies. He will point the way for the company to build on the successes of the past year and can count on our fullest trust and support," says Marianne Burmester.
The company had achieved numerous milestone successes in 2020, including the expansion of strategic partnerships. In 2021, Burmester will release further product innovations in its core segment, home audio. In addition, the remodeling of the company's headquarters in Berlin-Schöneberg will be completed.
"Burmester soundsystems stand for unsurpassed product quality made in Germany. My goal is to promote and align our activities around the company's superb engineering expertise. Above all, I am looking forward to learning this from the employees and to writing this new chapter in the company's history together with them," comments Frank Weise.