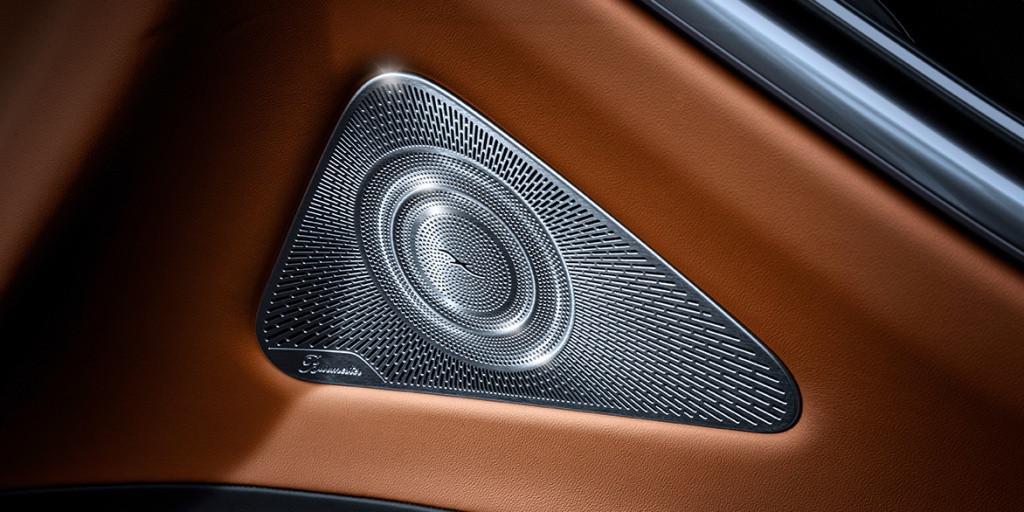 AUTOMOTIVE
A New High-End
Surround-Soundsystem
Berlin, October 28th, 2020

Burmester Audiosysteme and Mercedes-Benz realize another innovative project in the field of automotive audio with the High-End 4D surround sound system.

The key factor in the realization of the project was to personalize the sound experience to the maximum. Both companies proactively address the ongoing trend in the luxury segment, where high-quality sound solutions have become an essential part of the automotive experience. The system was developed for and is available in the new Mercedes-Benz S-Class.

Functionally, the High-End 4D surround sound system expands the previous system by means of structure-borne sound converters, so-called Exciters, integrated in the seat. This custom developed solution makes it possible to perceive the rhythms of the music not only through the ears, but through the entire body, which represents a completely new sound experience in the automobile.
The musical experience transmitted to the body is additionally amplified by the personalization function. Freely adjustable parameters generate a sound profile adapted to your own preferences. Subsequently, 31 high-performance loudspeakers and eight Exciters with 1,750 watts of sinusoidal power provide the all-encompassing sound experience.
Surround loudspeakers incorporated in the front seats optimize the surround sound for the driver and front passenger. These speakers, which are positioned closer to the ear, also provide clear voice reproduction during phone calls.
Visually, the focus is on creating a fully integrated experience. The design of the system blends seamlessly into the interior of the vehicle and its UX.
Burmester and Mercedes-Benz thus strengthen their partnership of more than eleven years to provide absolute sound experience for the luxury segment of automobiles.
Dina Hoenge, CMO at Burmester Audiosysteme: "The automobile offers ideal conditions to enjoy music. Especially high-quality sound solutions have become an essential part of the experience in the mobile luxury segment. Together with Mercedes-Benz, we have been providing unforgettable sound experiences for years and are particularly proud to make good sound constantly more accessible. We are looking forward to the exciting projects that our joint future holds in store for us."
The Burmester High-End 4D-surround sound system as well as the Burmester 3D-surround sound system are available in the new Mercedes-Benz S-Class, which will be launched in Europe by the end of 2020 and can be ordered now.
Burmester is a selected partner of Mercedes-Benz and available with vehicle-specific sound systems in all models.