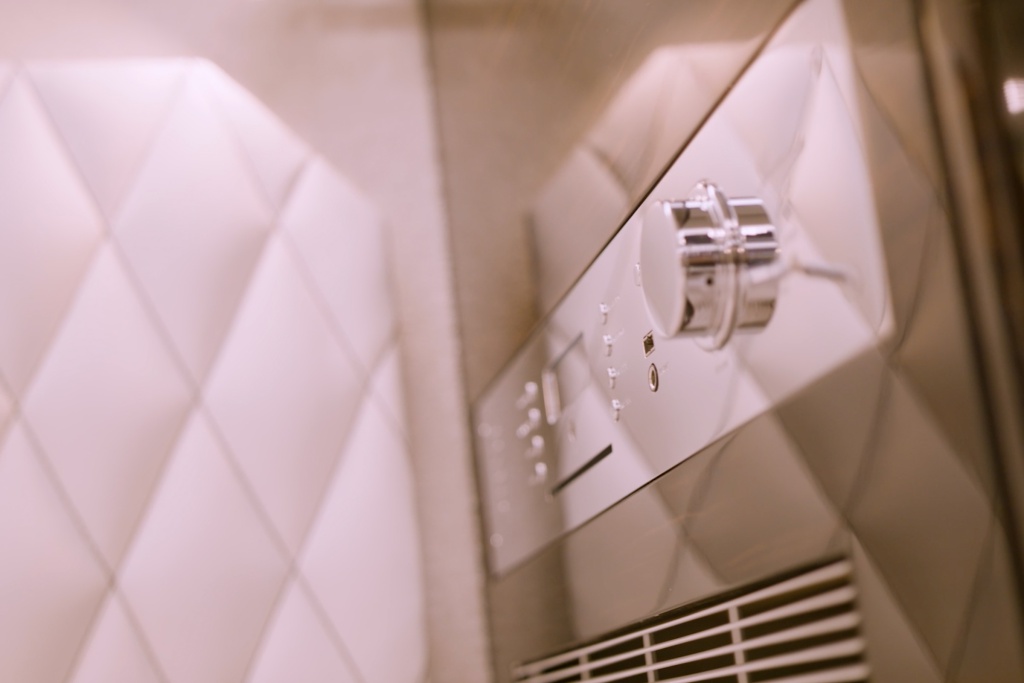 PROJECT BACKGROUND
Burmester Audiosysteme and
Volkner
Since the beginning of the first cooperation with Bugatti in 2002 and the release of the first high-end sound system in the Bugatti EB 16.4 VEYRON in 2005, Burmester Audiosysteme GmbH has been considered a pioneer in the field of automotive sound experience. Since 2009, luxury class manufacturers such as Bugatti, Mercedes-Benz, Maybach, AMG and Porsche have been working in strategic partnership with Burmester, relying above all on over 40 years of manufacturing experience and sound engineering know-how "Made in Germany".
Volkner Mobil is distinguished by the highest standards of comfort and quality and continues to set new benchmarks, especially with the high degree of individuality that goes into the design of each vehicle.
Both Volkner and Burmester are considered market leaders in their segments. A cooperation of both brands on the product level was therefore an exciting challenge, but also a logical step to set new standards in the travel luxury sector.
THE SHARED VISION
A unique luxury RV for audiophiles and true music lovers
From shared passions such as a dedication to craftsmanship and an unwillingness to compromise on quality, a shared vision quickly emerged in 2020 to create a rolling living room for audiophiles and music lovers that would meet the highest standards. The opportunity presented itself in the joint work on the flagship motorhome: the Volkner Mobil Performance S with a globally unique, patented centre garage for transporting a Bugatti Chiron.
The vehicle offered Burmester ample opportunities to combine its engineering expertise from the automotive sector with its product competence from the home sector, thus enabling an unprecedented sound experience. Volkner Mobil GmbH's flexibility and willingness to implement allowed Burmester to place and align the components in the vehicle in such a way that they would meet the specific standards of the home segment.
"This was a pilot project for both companies. Burmester has almost two decades of engineering experience in automobiles, where it contributes significantly to the contemporary luxury experience. But the installation of entire home components and systems in a rolling living room is something very special, which takes the on-the-go music experience to a completely new level," says Stefan Größler, CTO Burmester.
AUTOMOTIVE AND HOME AUDIO
Optimal music reproduction with highest fidelity in every room
The installed Burmester systems follow a so-called "multi-zone concept" in the vehicle. In total, two source units (Burmester Musiccenter 161) are installed in the Performance S, so that different soundtracks can be played in all rooms (bedroom, living room and bathroom).
Decisive for the optimal sound is not only the right choice of components before installation, but also their sound tuning afterwards. "The Performance S creates very good conditions here, as it has extremely few standing wave problems due to its geometry and, due to its solid construction, it also does not create any interference noise that could limit the sound experience," says Dr. Steffen Bergweiler, Automotive Sound Engineering at Burmester. Burmester was thus able to ideally position and fix the installed components in the living room and bedroom, resulting in an optimal sound image for the listener.
The driver's cabin is separated so that music can be listened to in a relaxed manner while driving. The Burmester system, on the other hand, develops its full power for all listeners when the vehicle is stationary, thus creating a genuine concert experience in the Performance S during every break and evening round.
INCLUDED COMPONENTS
| | |
| --- | --- |
| Musiccenter in living room and bedroom including iPad® | 2x 161 |
| Integrated amplifier | 4x 101 |
| Integrated amplifier individually adapted for multi-zone operation in the bathroom | 1x 101 |
| In-wall satellite (loudspeaker) | 2x Pair |
| In-Wall Woofer (loudspeaker) | 2x Pair |
| Ceiling loudspeakers suitable for damp rooms in the bathroom | |